Reviews & Testimonials


Winner of the
2005 Best New Product Award
WRLA - Western Retail Lumber Association


Testimonials

I have been using "THE COPER" since mine arrived by mail about two years ago. I am amazed that not every finish carpenter in the country is using one of these amazing little tools. It cuts down installation time and allows me to make more money on every job. Jim Somers, Calgary, AB

I first saw The Coper in action about a year ago. From the first time I saw it I knew I wanted one. Since then I have started my own interior woodworking business and have looked for ways to speed up production without compromising quality. The Coper definitely does both. Thank you for a wonderful product that will withstand the daily abuse I give it. Todd Widman, Sioux Falls, SD

Your product, The Coper, is such a hit at our jobsites that I find it hard to keep track of who has taken it to another site they are working at. I honestly love the product but don't like the fact that I can't keep track of it's whereabouts. I have recommended it to every carpenter I run into. David Kortokrax, Landmark Building Company, Ottoville, Ohio

One of the best money saving tools I've purchased in 30 years. No waste even with unskilled labor. Five stars.
Tom Freeman, Santa Clara, CA.

I used the Coper recently to install baseboard throughout my San Jose home. It definitely made the job go quicker and improved the results. I had previously used the coping saw and file method to fit the corners and had improved that by replacing the file with a dremel tool. Compared to either of those methods, the Coper made a much neater cut with a great fit and far less sawdust mess from the fine-tuning required with the dremel/file methods. And it greatly reduced the need to patch any corners with caulk or spackling to get the perfect looking joint. Now when are you going to figure out a 'Coper" for crown molding? Chad Roue, San Jose, CA

There are few things that we buy that fulfill all of the expectations we have as we make the purchase. I have to tell you your product is one of them. I just finished my base molding and chair rail project and your Coper is one of the smoothest tools I've ever purchased. I will add this tool to the list of things I've bought that I couldn't live without now that I have it (along with the Kregg Pocket hole Jig & My Jointech Slider Miter unit). It is a pleasure to use.
Here are a few pictures of the carrying case I made for my Coper. David Rutherford, Toledo, Ohio.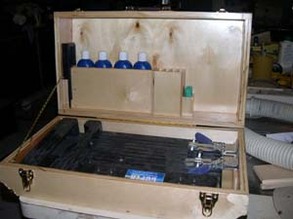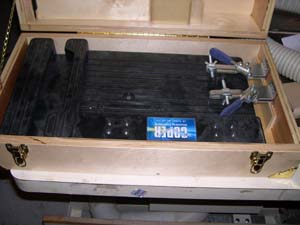 "This Is A Great Time Saver! Easy Tool Set Up!" Billy Fleetwood, Bloomington, Indiana

"The Coper is a big time-saver if you have a lot of flat trim work to do." Gary M. Katz, Fine Homebuilding Magazine

"The result was perfect… the detail it picks up is impressive... five stars!" Jan Svec, WOOD Magazine

"The Coper is a product of obvious value. It not only works very well, but significantly reduces the amount of time required to do a job." Carl Duguay, Canadian WoodWorking Magazine

"The results of routing the joints with the Coper was very impressive, and sure beats the pants off trying to cope a bunch of joints by hand. The time saved more than pays for the jig." Alan Goodsell, American Router Magazine

I just finished my first baseboard job using the Coper and I was extremely pleased with the results. I found it easy to use, thanks to the video provided, and I was able to save quite a lot of time completing the job. I can see after just one job that the investment will pay for itself in time saved in no time. Thank you for the effort you put in to developing this product. I wish you much success. Harvey Hoffman, Edmonton, Alberta

Advantages of The Coper
A perfect corner every time!
Each cut only takes seconds to make.
Faster than mitered corners!
Anyone can get professional results.
Cut down on wasted baseboard.
Easy to use.
Can be used anywhere.
Creates "back-cut".
A great fit even when corners are not a perfect 90 degrees.
Works on all types of baseboard.
A high quality tool with a 1 year guarantee.
With THE COPER providing a consistently perfect corner, consumers will get professional results while limiting wasted baseboard molding on miscuts, time spent on corners that are not square and the tedious skilled labor of operating a hand coping saw. THE COPER has the competition beat in both design and result. THE COPER is designed for consumers who are looking for ways to improve the speed, accuracy and quality of their work. It allows anyone from the homeowner to the finishing carpenter to produce professional final results.