The Coper works on all types of wood and MDF baseboard or chair rail up to 8" high and 1" thick!
Basic Instructions

Using The Coper allows you to create perfectly coped corners in about 10 seconds! This will save any carpenter 3-5 minutes per cut! On a large job it will save hours of labor and frustration.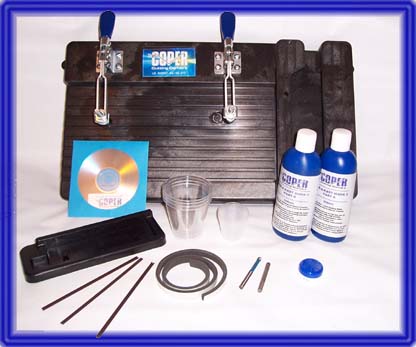 1. Cut a one-inch long piece of the baseboard you are using.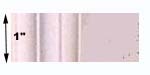 2. Place this piece of baseboard into the molding tray so that the top of it is right against the stop located at the top of the tray. Place the relief block snug against the bottom of the baseboard.


3. Pour 40ml of Smooth-Cast 300q Part A into a measuring cup. Pour 40ml of Smooth-Cast 300q Part B into another measuring cup. Pour both parts into the mixing cup and quickly mix with a stir stick for 20 seconds.

4. Pour the mixture into the molding tray. It will set up in about 2-3 minutes. Allow the template to completely harden.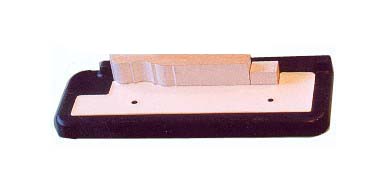 5. Place the template into The Coper, and screw it down into place.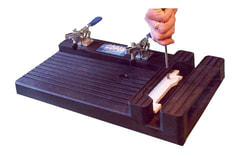 6. Place the 1/4" flush trim router bit into your router and tighten it into place. Adjust the height of the bit, so that the bearing rides along the template installed in The Coper.


7. Place the baseboard you need coped into The Coper so that it is 1/4" past the template. Adjust and lock down the clamps to ensure that the baseboard does not move during the cutting process.


8. Run the router along the template edge. Cut slowly and smoothly letting the router do the work. Each cut should only require one pass with the router. Allow the router bit to cool down between cuts.


9. Release the clamps and remove the baseboard. You now have a perfectly coped corner piece. As the piece is back cut, it will fit into any corner.



10. Cut the baseboard to length and install. Repeat steps 7 through 10 for each additional cut.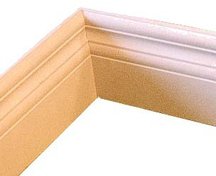 That's all it takes and The Coper will now make a perfect corner every time you use it!
Since you make the templates yourself, THE COPER will work on every type of baseboard that has ever been made or that ever will be made! THE COPER is the ultimate finishing jig.